Latin tarot has been around for centuries and is the most popular form of tarot reading today. Many people feel lost during unprecedented times and look to Tarot reading to help them find their way. With the help of a Psychic or professional tarot card reader, you can gain insights related to your future which can help you make better decisions. 
Latin tarot cards can be a fun and interesting way to learn more about yourself and the people around you. Using the cards as a virtual tool allows you to explore different aspects of your life that you may not have considered before. By doing this, you can gain a greater understanding of yourself and the world around you.
What is Latin Tarot?
The Latin tarot is one of the ancient tarot card readings known across the globe. Latin tarot is also known as 'Tarot de Marseille,' which is a type of tarot card reading developed in the Latin regions.
The Tarot de Marseille deck is among the first ever created, consisting of simple and straightforward imagery compared to the Rider-Waite deck, which has comparatively more detailed imagery.
Although both of the tarot decks have similar meanings with slight differences in the names of the card and their origins.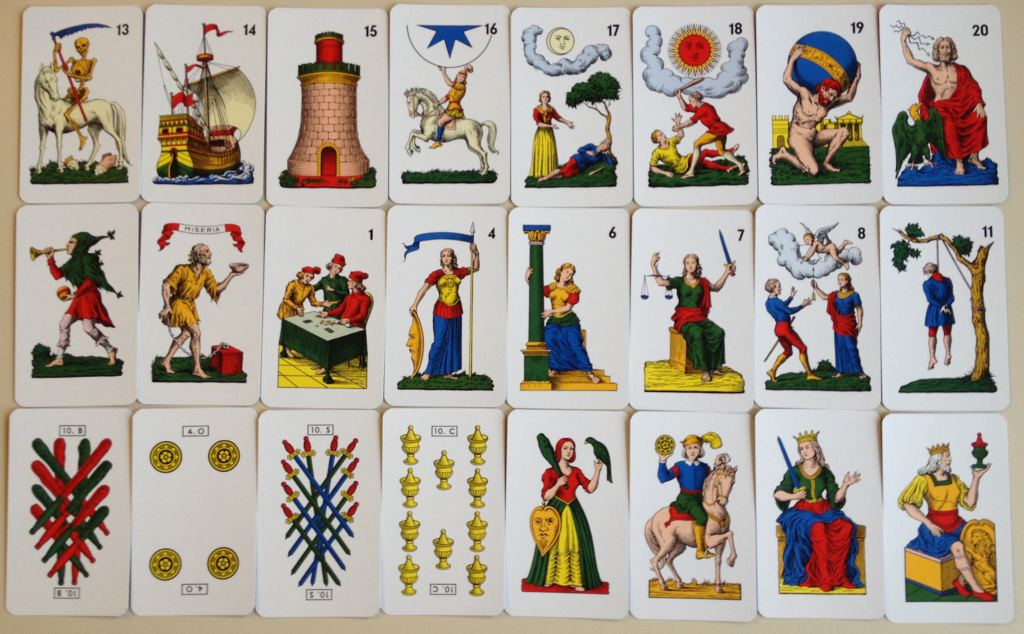 History of Latin Tarot Reading
Before we get into free Latin tarot reading and discuss whether it really works or not, let's talk about where it all started.
The original date of the first tarot deck is still unknown. However, we know that the Tarocchi di Mantegna was one of the first recorded tarot decks, debuting in Italy in the 14th century. These cards were used to display the art of the artist, and wealthy people used to keep them.
The popularity of playing cards shifted from Italy to France, where they were used in games that didn't focus on the card's hidden meaning. It's believed that Tarot de Marseille was inspired by the Tarocchi cards.
Latin playing cards have been around for a long time, but it wasn't until the 19th century that they got the name Tarot de Marseille. The production of these cards took place in Marseille, France, during that time.
The Tarot de Marseille is a popular deck today, and many people enjoy using it for divination and readings.
Does Latin Tarot Reading really work?
Yes, it does. Latin tarot reading has been used for decades to help people seek answers, discover the truth and connect with their intuition.
Here are some common uses of Latin tarot reading.
#1: Answers complex questions
A Latin tarot reading can help you answer your complex questions and can have a big impact on your life story. When you face a difficult decision, feeling confused, overwhelmed and lost is completely normal. This is especially true when the decision could alter the course of your life.
For instance, switching to a new job or leaving your already good job for business or better opportunities. Of course, you would need professional assistance in seeking meanings, and that's why it's vital to consult a psychic from top tarot reading sites like https://freetarotonline.com.
#2: An investigation tool
Latin tarot readings are an unconventional but effective method for solving cases that other resources, such as technology, can't crack. This is because psychics have the ability to provide investigators, detectives, and police forces with information that they wouldn't be able to obtain otherwise.
While it may seem like a somewhat strange way of solving crimes, it has been shown to be effective in many cases.
#3: Self-discovery
Latin tarot, just like other tarot readings, is a very effective tool for seeking answers and life's deep meaning. You can bring more clarity to your life and learn from self-reflection with the help of questions and their answers pursued in tarot reading.
Latin tarot reading is a great way to learn about your strengths and weaknesses. By becoming more aware of your true self, you can better take on new challenges and mold situations to fit your skillset. This can profoundly impact your life, and you will be better equipped to handle whatever comes your way.
#4: Discover the truth about the surroundings
Latin tarot readings allow you to get in touch with your innermost thoughts and feelings and to learn more about the world around you. This ancient practice can be a regular part of your life, helping you to stay attuned to yourself and your goals.
Whether you're seeking advice for a new relationship, marriage, career, or business, a Latin tarot reading can clear the roadblocks from your way and help you discover the truth about your surroundings.