The Saraswati Vandana Mantra is a very important Hindu mantras. Maa Saraswati Mantra is recited for the attainment of higher education and intelligence. Maa Saraswati is considered the goddess of learning and art. In India, everyone, from musicians to scientists, offers prayers and prayers to Goddess Saraswati for enlightenment and guidance.
Devotees of Maa Saraswati recite the Saraswati Vandana Mantra every morning to get good luck. This Vandana has different meanings for everyone.
That is, if a student prays for enlightenment, then for information about a musician, sur-taal, etc. Saraswati Vandana is part of the regular pooja shloka and Saraswati mantra Saraswati Suktam is in 'Rigveda' which is completely different.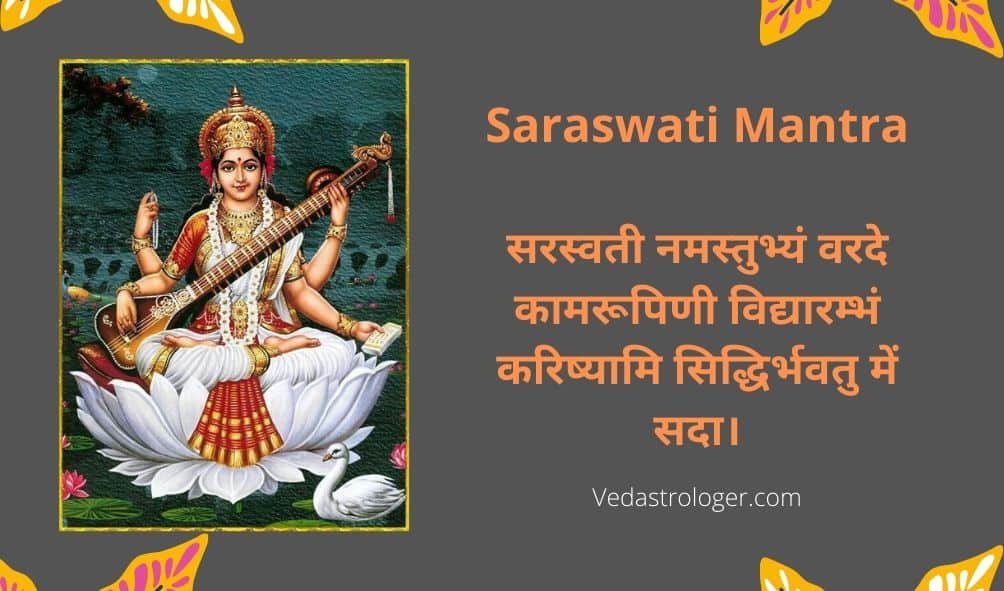 What is the Maa Saraswati Mantra?
The Saraswati mantra illuminates the mind with the light of knowledge, whether it is related to the academic field or to the spiritual world. It is believed that Saraswati Mantra increases the confidence in the mind and makes a person expressive. The Maa Saraswati Mantra also helps in the increase our speech power, resolves speech defects and helps us in using our words properly.
Who is Saraswati?
Mata Saraswati is the goddess of Saraswati mantra. Saraswati Mata is the god of courage, art, music, knowledge, and power. Saraswati Devi is also called 'Vak Devi' i.e. the goddess of speech and sound.
Goddess Saraswati is depicted as a beautiful woman wearing white clothes which is a symbol of purity; Sits on a white swan that represents knowledge and truth; He has four hands, in which he is wearing a veena, book crystal garland and holy water vessel,
Which is a symbol of all forms of creativity and art respectively, the Veda (the original source of knowledge), the power of meditation and pure powers.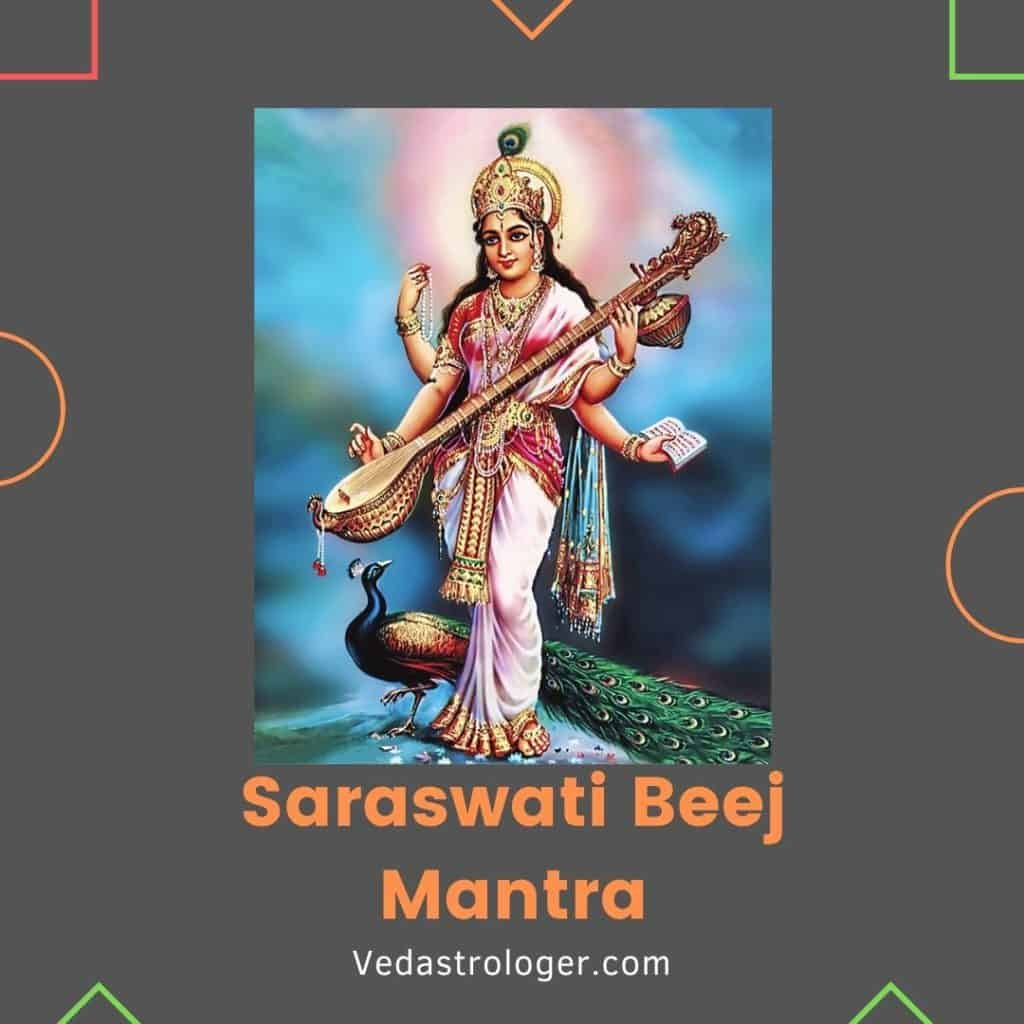 What is the Saraswati Beej Mantra?
Sarswati beej mantra known as beej mantra of the goddess Saraswati or Saraswati maa. This mantra used to praise the Saraswati maa and helps to get blesses and knowledge. This powerful beej mantra of Saraswati helps to improve courage, wisdom and self-confidence.
Saraswati mantra in Sanskrit
सरस्वती नमस्तुभ्यं वरदे कामरूपिणी
विद्यारम्भं करिष्यामि सिद्धिर्भवतु में सदा।
Saraswati mantra in Hindi
sarasvatee namastubhyan varade kaamaroopinee,
vidyaarambhan karishyaami siddhirbhavatu mein sada.
Saraswati mantra meaning in Hindi
हे सबकी कामना पूर्ण करने वाली माता सरस्वती, आपको नमस्कार करता हूँ।
मैं अपनी विद्या ग्रहण करना आरम्भ कर रहा हूँ , मुझे इस कार्य में सिद्धि मिले।

Saraswati mantra in English
sarasvatee namastubhyan varade kaamaroopinee,
vidyaarambhan karishyaami siddhirbhavatu mein sada.

Saraswati mantra meaning in English
O Goddess Saraswati who fulfills all wishes, I greet you.
I am starting to take my education, I get success in this work.

Saraswati mantra in Bangali
সরস্বতী নমস্তুখ্য্যা বর্ধে কামরূপিনী
সর্বদা বিদ্যাম্ভম্ভ চরিতি সিদ্ধিরভাভাতুতে।
saraswati mantra meaning in Bangali
হে দেবী সরস্বতী যিনি সমস্ত ইচ্ছা পূরণ করেন, আমি আপনাকে শুভেচ্ছা জানাচ্ছি।
আমি আমার পড়াশোনা নেওয়া শুরু করছি, আমি এই কাজে সাফল্য পেয়েছি।
How to chant Maa Saraswati Mantra?
For chanting Maa Saraswati Mantra you have to use rudraksha mala or rhinestone Rosary.
You can use white flowers, a white dress, a white seat for chanting mantra.
Total Chanting Number for Saraswati Mantra 108*5 times
Best time to chant Saraswati Mantra or Muhurta is Rohini, Mrigashira, Chandravali
What are the benefits of chanting Saraswati mantra?
If you do regular chanting of Saraswati mantra then it help you to increases speech, memory and concentration in study.
The mantra of saraswati maa has the power to remove ignorance and confusion.
Learning by chanting Saraswati Mantra is easy and memory lasts for a long time.
By chanting this mantra of saraswati maa with dedication, a student can pass his exam and a job aspirant successfully with very good marks.
By chanting Saraswati Mantra helps poets, writers and folk speakers to reach new heights of achievements.
People also ask:
When should we chant Saraswati mantra?
If you want fast and best results then chant mantra of saraswati maa 108*5 times. You can also chant this vedic mantra 1 to 2 hours before the exam or whenever you need full concentration in your work which you want to do.
What does Saraswati mean?
In Hindu dharma Saraswati is the god of knowledge, art, music, courage, learning. Saraswati Mata is part of the tridevi of Saraswati maa, Lakshmi maa, Parvati maa.
Which day is Saraswati Day?
25th of June is Saraswati Day.
Is Saraswati sister of Shiva?
If we consider Skanda Purana then the Saraswati is Lord Shiva's sister.
How many times to chant Saraswati mantra?
You can chant Maa Saraswati mantra 108 times to get the blessing from Maa Saraswati. If you want more benefits then you can chant 108*5 times in a day.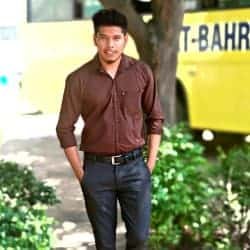 I'm Sachin. I'm a pro blogger, digital marketer been doing and living for SEO for over 3+ years. I'am the founder of Seotechbuddy, vedastrologer, fittuter, and many other online ventures. At Vedastrologer I publish content related to the mantra, Hindu gods, and temples.