Today, we will explore the top Shiva temples in India.
The supreme Hindu deity Shiva has played an essential role in forming Indian culture.
Shiva is worshipped by millions of people across India. In the North, he is known as Shiva or Mahadeva, while in the South, he is called Thillai.
He is described as a Yogi or a peaceful entity among his devotees. He is also believed to be fierce in the form of Bhairava or Nataraja.
He is worshiped in various forms around the country, from Kashmir to Kanyakumari and Saurashtra to Assam.
For travelers interested in spirituality, India is a must-visit destination.
India is home to several temples, and you'll find one at every turn you take. You'll find the most famous ones in the Northern valleys of Kashmir and the Southern coasts of Tamil Nadu.
Take a tour of India's many temples to experience the religious history of this vast and fascinating country!
Top 31 Shiva Temples In India In 2022
#1. Amarnath Temple, Kashmir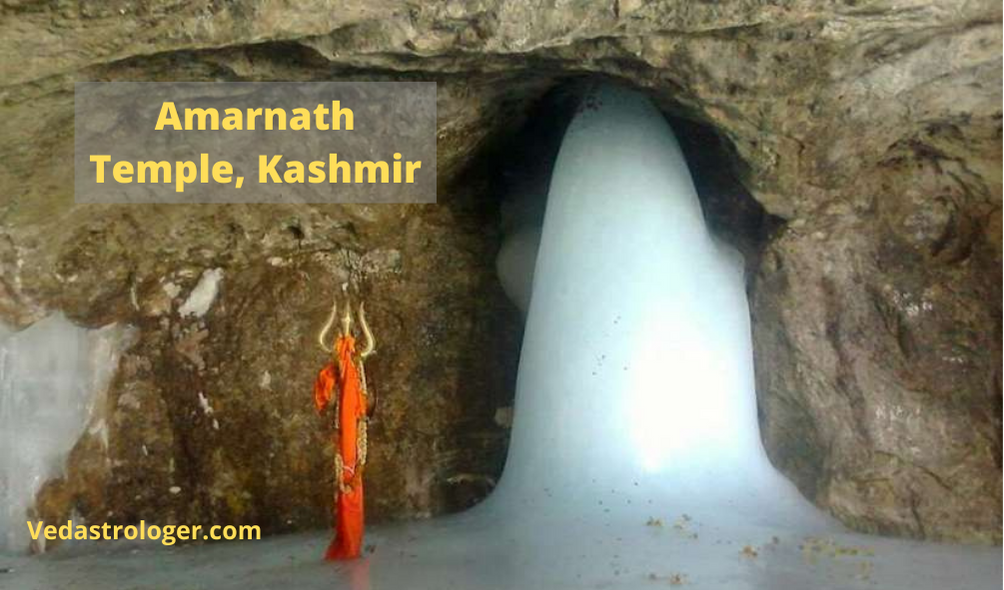 Amarnath Yatra: The Greatest Pilgrimage of All
If you are a Shiva devotee, then there is absolutely no way you would have missed the Amarnath Yatra. It is one of India's top famous Shiva temples, and the pilgrimage is an extremely challenging yet coveted one among all the Shiv Shanker devotees. Temple situated at a mammoth height of 3888m in a cave in Jammu and Kashmir, and the Amarnath Yatra is a famous and pious religious trip that pilgrims undertake to worship the Lord. The temple is popular for the naturally forming ice Linga of Lord Shiva that happens once a year.
The Amarnath Yatra can be taken via two routes – via Baltal or Pahalgam. Both these routes lead to Chandanwari, which is 16kms away from Pahalgam.
#2. Kedarnath Mandir, Uttarakhand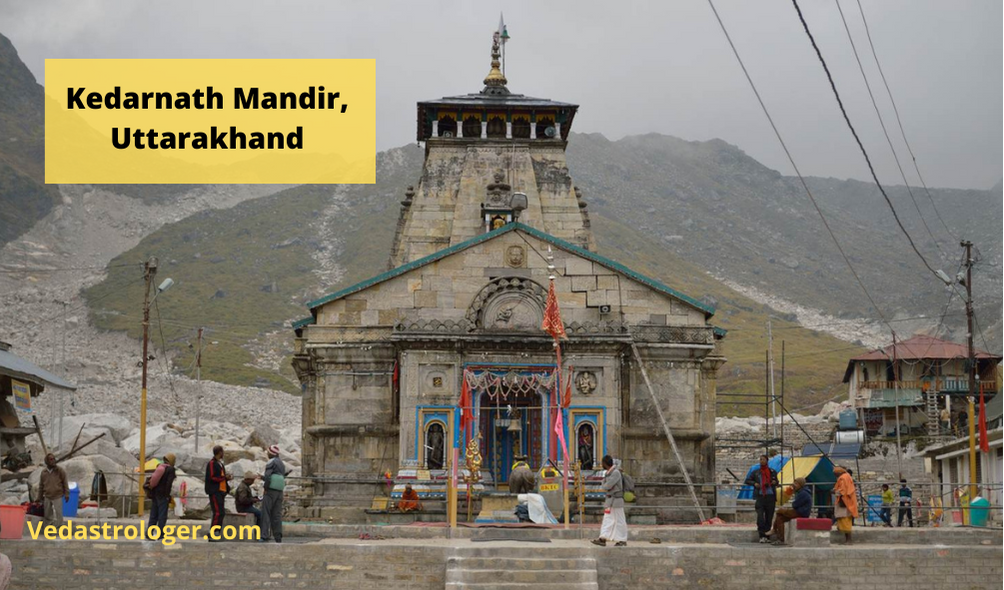 Kedarnath Temple is the most famous religious Shiva temple in India. This Shiva temple is located in the Garhwal Himalayan range, Uttarakhand. Kedarnath comes in 12 Jyotirlingas of Lord Shiva.
The temple has a height of 3583 metres above sea level and is located near the Mandakini River in Uttarakhand. This temple is among the four Chardham Yatra destinations, Yamunotri, Gangotri, and Badrinath. Kedarnath Temple is also one of the five temples constituting Panch Kedar and it's located in Dev Bhumi Uttarakhand.
Adi Shankaracharya built the temple in AD 8th century. The structure comprises a conical rock formation that resembles lord Shiva himself, covered by snow throughout most of the year and remains open from April to mid-November.
. The temple has a "garbhagriha" or sanctum sanctorum for worship and a large mandapa for devotees to assemble and pray. A giant statue of Nandi Bull stands at the entrance of the temple complex as well.
#3. Somnath Mandir, Gujarat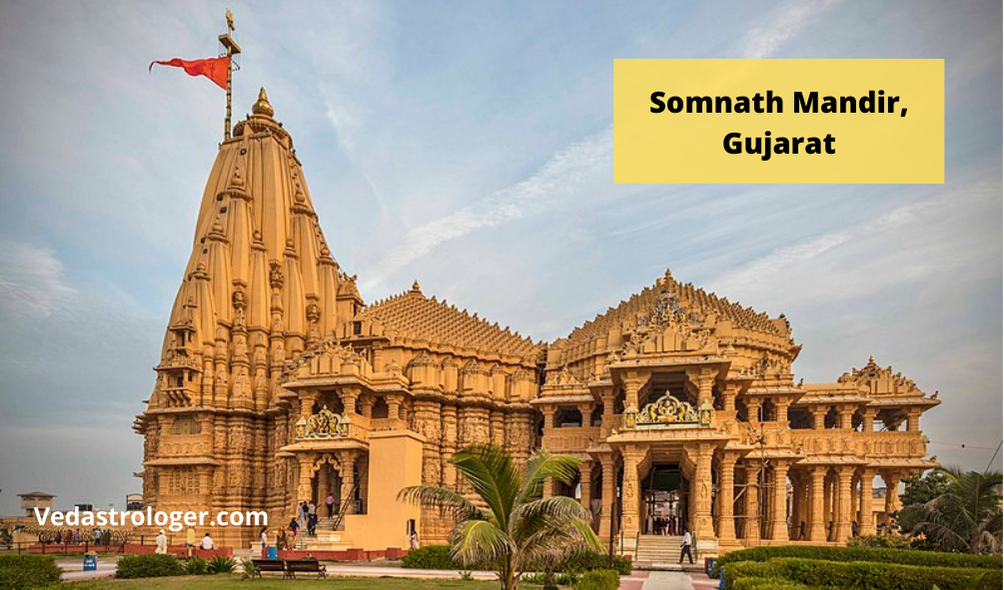 If you are planning to come to Gujarat, then Somnath is best top shiva temples in India
Visit the historical temple of Somnath located in Saurashtra.
The temple is contemplated sacred due to the various legends linked to it. Somnath means "Lord of the Soma", an epithet of Shiva. According to tradition, The temple comes under the 12 Jyotirlinga temples dedicated to Lord Shiv shanker and gained a prestigious position among the Hindus.
The temple has been evidence of severe historical incidents and has been broken down by foreign invaders for the temple's exclusive repository of gems and jewelry.
The recent temple of Somnath was rebuild in 1947.
It is constructed in the Chalukya Style of architecture just next to the seashore.
The most liked part of the temple is an Arrow Pillar, known as Baan Stambh.
#4. Mallikarjuna Swamy Temple, Andhra Pradesh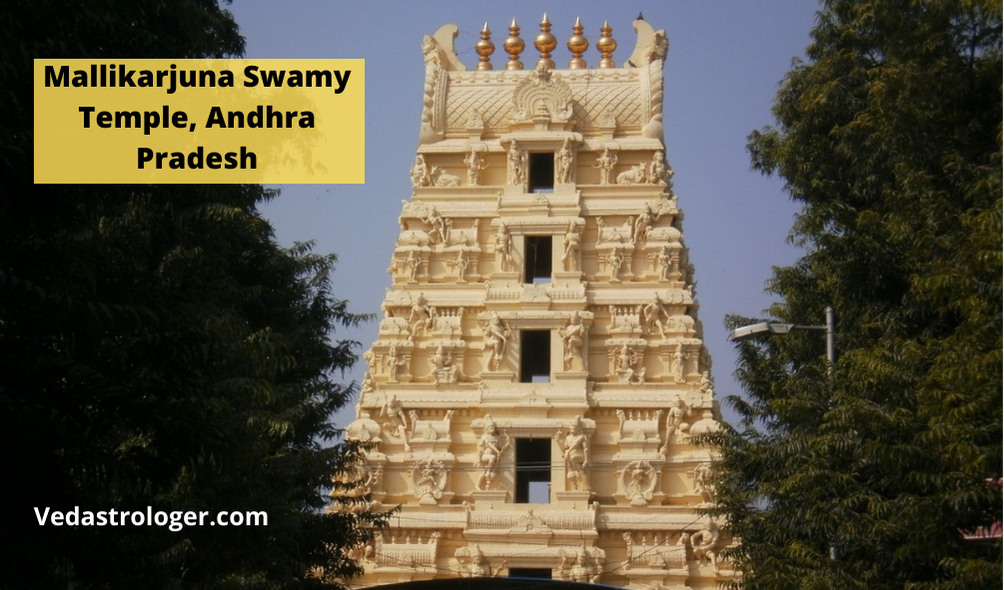 Mallikarjuna Swamy old shiva temples in India. Mallikarjuna Swamy, one of the 12 jyotirlinga shrines, is located on the banks of the Krishna River in Andhra Pradesh.
The temple is a marvel to see: its gilded spire shines in the sun, and its silver-plated door and gracefully ornate pillars catch your eye from afar.
It was constructed by King Harihara Raya of the Vijayanagara kingdom over 6 centuries ago. History buffs can get sufficient
elements to fill their knowledge bank in this temple!
The lord Shiva is praying here in the form of Mallikarjun and Goddess Parvati is praying here as Bhadrakali.
Whether you're religious or not, you've got to give it to the locals for building such a stunning temple in the middle of nowhere (Srisailam is located in Andhra Pradesh). We suggest finding some traditional Indian clothes to wear while there: it is an experience.
#5. Mahakaleshwar Mandir, Madhya Pradesh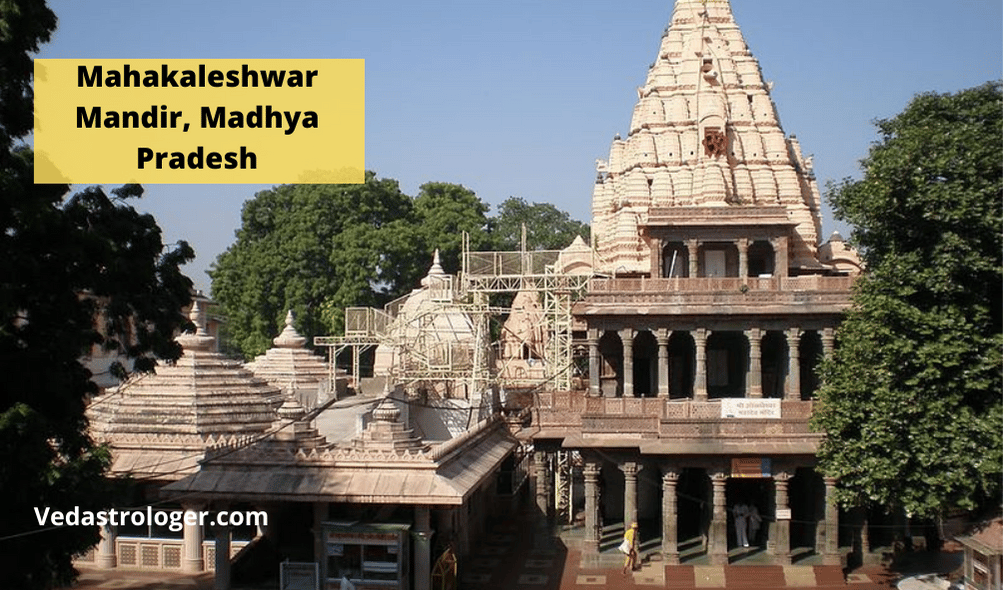 Are you looking for a little spiritual healing? Take your trip to Ujjain, India.
The Mahakal Temple is a must-see religious site in the city of Ujjain. It is located in Madhya Pradesh and has been an important pilgrimage site for centuries.
According to Hindu mythology, Mahakaleshwar Jyotirlinga Temple is one of the 12 Jyotirlingas in India. The presiding deity of the temple, Lord Shiva, is Dakshinamurti. The word "Dakshinamurti" means "facing south". This indicates that Lord Shiva faces the South direction, a symbol of wealth and prosperity according to ancient Indian beliefs.
There are two main attractions at this Jyotirlinga Temple: Bhasma Aarti and Linga Bhairavi. Both these deities are considered to be forms of Goddess Parvati (Durga). According to Hindu mythology, Bhasma Aarti is a fire ritual to ward off evil spirits from entering the temple premises, while Linga Bhairavi represents wealth and prosperity.
One can see many devotees coming here during Navratri and on Sundays to seek the blessings of Lord Shiva and Goddess Parvati.
This Mahakaleshwar Temple Shivalinga has been worshipped for thousands of years. You can't miss this religious site—it's one of the most popular destinations in Ujjain for tourists and locals alike!
#6. Omkareshwar Mandir, Madhya Pradesh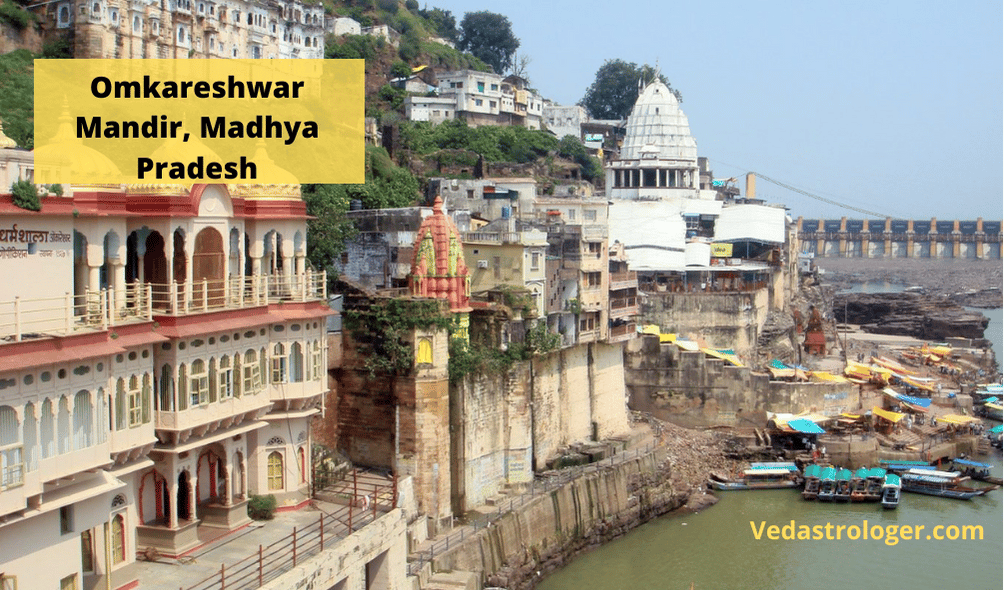 Welcome to Omkareshwar Temple!
Omkareshwar Temple is one of the top temples in India, drawing millions of visitors each year. Located on an island shaped like the Hindus spiritual symbol Om, this temple is situated in the Narmada river in Madhya Pradesh. It's a five-storeyed building that encloses the seats of different Hindu deities other than the presiding deity Lord Omkareshwar.
The deity is worshipped three times a day by different priests instead of the same time head performs it at all three times. The temple trust completes the morning prayer, the Puja at mid day is done by the parson of Scindia state, while the evening one is performed by the priest of the Holkar state.
The idol of Lord Omkareshwar is three-headed and important mythologies back its appearance. To see the most colorful face of this shiva temple, tourists should come here on Monday and during Shravana, the 5th month of the Hindu calendar.
#7. Bhimashankar Temple, Maharashtra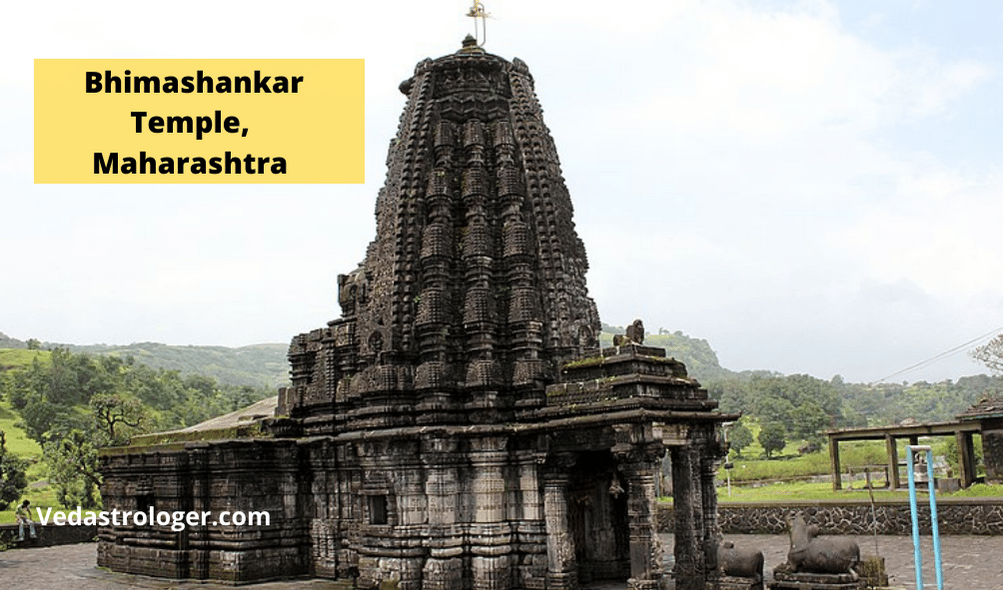 Bhimashankar Temple is a sacred place for all devotees of Lord Shiva.
Located in Pune, Maharashtra, the Bhimashankar Temple is found at the place from which the river Bhima begins its journey. Built-in the Nagara architectural style, the temple represents modest and graceful temple architecture.
According to Hindu stories, Tripurasur, a demon, did penance in the deepest jungle of Bhimashankar and pleased Lord shiv Shanker, who blessed him with the gift of immortality.
He was told that he should use his blessing for the betterment of humans or else he would have to lose his life. In time, he forgot this condition and started violating the order of the Gods.
To stop his evil deeds, Shiv Shanker and Goddess Parvati took on a new form called Ardhanarishwara, who ultimately killed Bhimashankar. After this incident, Bhimashankar became a revered religious site.
#8. Kashi Vishwanath Mandir, Uttar Pradesh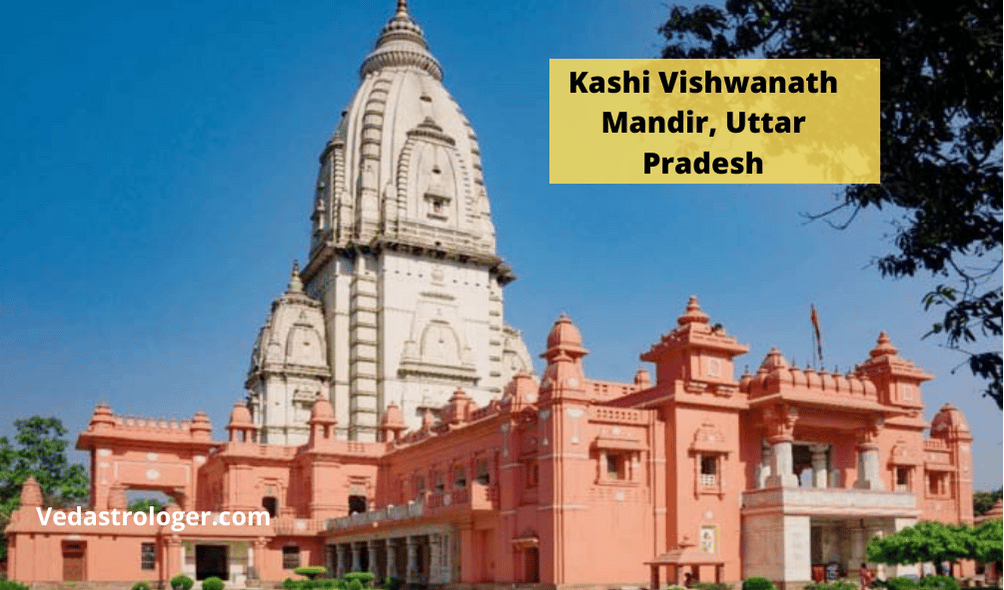 Kashi Vishwanath is one of the 12 consecrated shrines of Lord Shiva, which is also known as the "golden temple." The Jyotirlingam of Kashi Vishwanath is situated in Varanasi, Uttar Pradesh. Lord Shiva is said to be an ideal abode for all the devotees. This temple holds a significant place in Shaivism and also has high historical importance.
One who breathes his last in Kashi Vishwanath gets liberated from the cycle of rebirth, and that is why Vishwanath, the lord of the world, is the shelter of all devoted souls. The city of Varanasi is among one of the oldest cities in the world and has high historical importance. It is essential to mention here that the temple gets decked in its best during the Shiva Ratri festival.
It is one of the significant temples in India and sees a high number of visitors every year. We recommend you visit this temple during your next trip to Varanasi.
#9. Trimbakeshwar Mandir, Maharashtra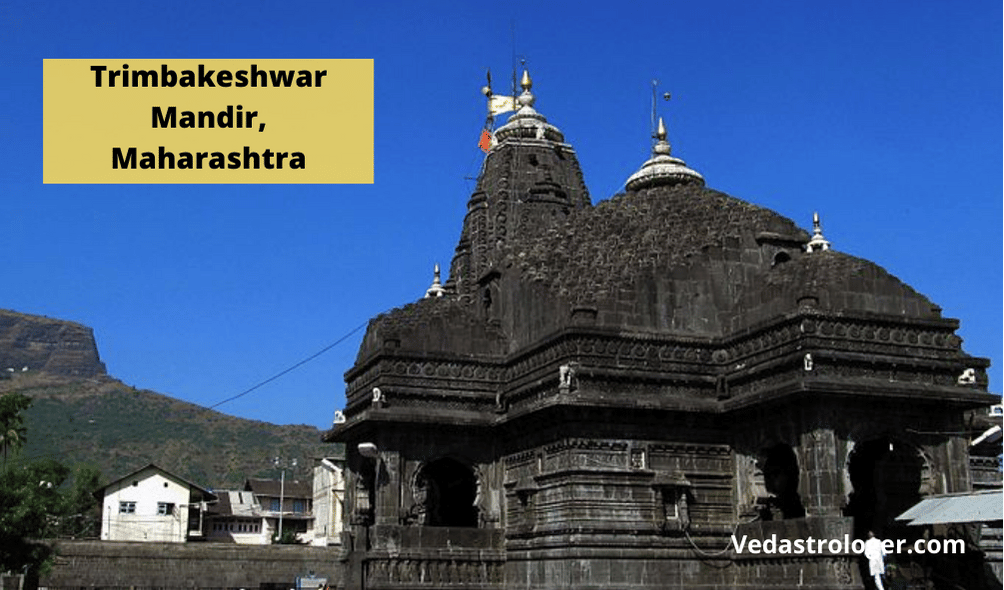 Trimbakeshwar is a Jyotirlinga Temple found at the source of the Godavari River. The temple was believed to be sonstructed by Peshwa Balaji Baji Rao. Built-in classic Hemadpanthi style, this temple is made of black stone and counted among the most famous Shiva temples in India.
The Shiva lingam in the temple depicts three faces embodying Lord Vishnu, Lord Brahma, and Lord Rudra. The lingas are beautified with three distinct golden crowns jaded by diamonds and expensive gems.
If you're want to get away from it all and enjoy some time in nature while exploring your spiritual side, Trimbakeshwar is an excellent destination for a weekend trip!
#10. Vaidyanath Mandir Deoghar, Jharkhand
Vaidyanath is a temple located in Deoghar in the state of Jharkhand. The temple is situated at a distance of 225 km from Ranchi and is considered to be one of the twelve Jyotirlinga Temples. Vaidya means doctor, and Nath denotes Lord, so the meaning of Vaidyanath is the Lord who acted as the doctor.
The temple is connected with the mythological incident of Ravana, who sacrificed his ten heads in a bid to please Lord shankera. It is believed that Shiva, being pleased with Ravana's devotion, came down to Deoghar and treated the severed head of Ravana as a doctor.
Baidyanath Dham or Baba Dham is one of the Jyotirlinga Temples and is located in the Santhal Parganas division of Jharkhand. The temples complex encompasses 22 temples of different heights dedicated to other deities. The antique elements seen in this temple are Punchshula, Chandrakanta Mani, and obviously the lingam, which is made of a unique stone.
#11. Nageshwar Temple Dwarka, Gujarat
History is on every side of us, but sometimes it can be hard to see.
Nageshwar Jyotirlinga, also known as Darukavana, is found on the coast of Saurashtra in Gujarat and is a historically enriched temple. It has been rebuilt at the site of 5 demolished cities and is situated on the way between Dwarka city and Beyt Dwarka Island. Lord Shiva is worshipped in Nageshwar as a Jyotirlinga and can be seen in an underground holy place.
Other than the religious and mythological importance, the temple houses a few important attractions like a 25 m tall statue of Lord shankera along with a big garden with a pond. Nageshwar is represented as Darukavana in ancient scriptures.
Visitors who are looking for opportunities to connect with nature will enjoy their time in Nageshwar, just as those seeking spiritual enrichment will.
#12. Ramanathaswamy Temple, Tamil Nadu
The Ramanathaswamy Temple is located in Rameshwaram, an island in Tamil Nadu. It is highly esteemed by the Shaivite and Vaishnavite believers and was built at the place where Lord Shiri Rama worshiped Shiva to get rid of the sin he did by killing Ravana, a Brahmin.
The temple has significant religious value, but it also gains more importance among the art and architecture lovers for housing the world's longest temple corridor.
People believed that the idol of Lord Shiv shanker (the bigger one) was initially brought from Kailash by Hanuman, a devotee of Lord Rama.
#13. Grishneshwar Temple, Maharashtra
The Grushmeswara Temple is believed to be the last Jyotirlinga temple on earth. It is located near Daulatabad (Devgiri) in Maharashtra and is at a village called Verul, which is around 30 km from Aurangabad and very near to Ellora Caves.
Ahilyabhai Holkar constructed the temple in the prehistoric architectural style. The formation of the Shiv temple is associated with a very compelling story of Shiva Puran, which states the faithfulness of Grushma and how she get back her son, who her jealous sister killed. Temple got its name from this incident and is thus known as Ghushmeswara or Grushmeswara.
#14. Brihadeswarar Temple, Tamil Nadu
If you're searching for a new place to visit and are interested in Hinduism, then Brihadeshwara Temple is your place!
Brihadeshwara Temple is located in Thanjavur (Tanjore) and is a UNESCO World Heritage Site. Raja Raj Chola built it, and it's considered to be the greatest example of Dravidian-style temple architecture. The temple itself sits atop one of the highest temple towers in the world.
A giant statue of Nandi is carved out of a single rock within the temple. The presiding god of this temple is Lord shankera, but there are also other deities represented outside of the temple, such as Dakshinamurthy, Surya, and Chandra. One of the unique aspects of this temple is that it includes statues representing Ashta Dikapalas.
#15. Shore Temple, Tamil Nadu
Mahabalipuram is a small city in Tamil Nadu, but it is famous for being home to some of the most fascinating ancient temples.
This temple is great for those interested in the history of architecture in South India. The Shore Temple is a specimen of the temple style of 8th Century AD. constructed of huge rocks of granite; the temple constitutes an important part of the temple complex of Mahabalipuram and is listed as a UNESCO World Heritage Site.
It is also one of the oldest Shiva temples in South India. In the presiding Lord Shankara temple, one can see a massive sculpture of Lord Vishnu in a reclining position in the temple. The Shore Temple is located on the shore of the Bay of Bengal in Mahabalipuram.
#16. Lingaraj Temple, Odisha
We have included Lingaraj Temple in our list of must-see temples in India.
This temple is an exclusive specimen of Kalinga Architectural Style and is dedicated to Lord Harihara, an incarnation of Lord Shiva. The temple was constructed by the kings of the Somavamsi dynasty and later modified by the rulers of the Ganga Dynasty.
The temple is built with sandstone and laterite and is surrounded by several other small shrines dedicated to other gods. People worshipped Shiva here as Tribhuvaneshwara, and his consort is worshipped as Bhubaneshwar.
Lingaraj Temple is one of the oldest Shiva temples in Bhubaneshwar city of Odisha.
#17. Kotilingeshwara Temple, Karnataka
Kotilingeshwara Temple is a temple of Lord Shiva located in Kammasandra town of Kolar district. The main attractiveness of this temple is the huge Shiva Lingam which is around 33m tall. Nandi, the mount of Lord Shiva shankera is around 11m tall. The Shiva Lingam of this temple is counted among the biggest known Shiva Lingams in the world.
#18. Daksheswara Mahadev Temple Haridwar, Uttarakhand
Located just 4 km from Haridwar, Kankhal is a small town that is known for the temple of Daksheswara Mahadev. The temple is named after Daksha Prajapati, the father of Devi Sati, an incarnation of Goddess Durga.
The temple was built by Queen Dhankaur in 1810 and later renovated in 1962. It has been designed in the Nagara Style. You can see the vibrant face of this temple during the Maha Shivratri festival.
#19. Annamalaiyar Temple, Tamil Nadu
If you love culture and history, Annamalaiyar temple is a must-visit place. Located in Thiruvannamalai, the temple is one of the Pancha Bhuta Sthalas. It was constructed by Chola dynasty rulers and renovated by Tuluva dynasty rulers. Temple is located at the base of Annamalai Hills. It is a famous religious spot for Shaivites. It witnesses five rituals in a day, and if you want to see the most happening sight of this temple, then you should visit here during the Karthigai Deepam festival. The temple complex covers a big area and is known in the country for its giant size and lofty height. The temple has been the innovation behind many Tamil religious scriptures. Annamalaiyar temple has four gate towers known as Gopurams.
If you want to see the most happening sight of this temple, then you should visit here during the Karthigai Deepam festival.
#20. Tarakeshwar Temple, West Bengal
In the lap of nature, Tarakeshwar is one of the most revered temples in West Bengal. It is associated with hundreds of deep-rooted religious beliefs of the Hindu devotees. The temple's presiding deity is Shiva, who is believed to be the rescuer of all religious souls. It is believed that Lord Shiva himself instructed Raja Vishnu Das in his dreams to build this temple, and he later made it. In fact, the mendicant brother of Raja Vishnu Das found the actual lingam that is worshipped today in this temple.
As we see it today, the temple has undergone many modifications over time. It was a simple structure when built by Raja Vishnu Das. Still, new additions were made over time. Today, there are four temples within the complex, each dedicated to different forms of Shiva, such as Tarak Nath, Tarapith, Hingalaj, and Pashupatishwar.
It is said that people who do fast in this temple without taking even water surely get their wish fulfilled by Tarak Nath. People from far-off places come here during major festivals such as Shivratri or Diwali to seek blessings from Lord Shiva.
#21. Murudeshwara Temple, Karnataka
The temple of Murudeshwara is Situated in Bhatkal Taluk of Uttara Kannada district of Karnataka. Located on a hilltop surrounded by the Arabian Sea's water, the temple is a 20 storied building. The temple has the second tallest statue of Lord Shiva, which spreads an enigmatic aura in the evening during sunset. The statue is 37 m tall, and it is approximate that it took around two years to build it.
The temple is open to all devotees throughout the year, and people from far off places come here to offer their prayers. The people who are more interested in history can also visit this place as many historical artifacts tell us about our ancient past.
#22. Vadakkunnathan Temple, Kerala
The Temple of Vadakkunnathan
Located in Thrissur, Kerala, the Vadakkunnathan temple is a popular Shiva temple in South India. Lord Shiv shankra is known here as Vadakkunnathan. People believed that the temple of Vadakkunnathan was the first temple to be built by Lord Parshurama, an incarnation of Lord Vishnu.
The idol of Lord Shiva shankra is worshipped here every day by offering a huge amount of ghee. As a result, today the devotees and visitors can see a huge mound of ghee instead of a proper lingam. The ghee used for daily abhishekam of Lord Shiva is later given to the devotees to take back home as prasadam.
#23. Bhavnath Mahadev Temple
The Bhavnath Mahadev temple is a place where you can glimpse ancient India; Bhavnath Mahadev temple is located in Junagadh district of Gujarat. The temple attracts thousands of visitors every year, a revered pilgrimage spot for Hindus and Jains.
Situated at the base of Girnar Hills, the best attraction of this temple is the Bhavnath Fair, which is held yearly from January-February. The fair is an experience unlike any other: you'll be blessed with the presence of Naga Sadhus, who are part of an ascetic sect who worship Shiva and use cannabis as a religious sacrament.
#24. Srikalahasti Temple, Andhra Pradesh
Situated in the Chittoor district of Andhra Pradesh, Srikalahasti Temple is associated with the myth of Kannapa's sacrifice of his eyes and is considered amongst the Pancha Bhuta Sthalas. Lord Shankara is worshiped here as Kalahasteeswara.
The temple was built in the 12th Century by Chola and Vijayangara Kings. The temple is known as the Kailash of the South. The white lingam worshiped in this temple is considered a Swayambhu or self-manifested lingam.
#25. Kandariya Mahadeva Temple, Madhya Pradesh
Kandariya Mahadev Temple is located in the temple complex of the famous Khajuraho temple of Madhya Pradesh. The temple stands apart from the popular Shiva Temples found across the country because the detailed carvings on its walls.
The temple attracts the attention of the travellers for the detailed carvings on its walls. There are around 900 shapes
inside and outside the temple. The prominent carvings include the photos of a dancing Chamunda and the images of Birabhadra. For the people fond of exploring temple architecture, the shrine of Kandariya Mahadev is a delight.
#26. Tungnath Temple, Uttarakhand
Are you a devotee who is equally dedicated to adventure? If so, then Tungnath Temple is the spot for you.
The temple of Tungnath is a must-visit temple for devotees and trekkers alike. Located at the height of 3680m in Rudraprayag District of Uttarakhand, this temple is located at the base of Chandrashila Peak, an important site for trekkers. All trekkers, irrespective of their religion, walk through this temple to reach Chandrashila Peak.
The temple of Tungnath comes in Panch Kedar Temples of Uttarakhand and thus holds great importance among the Hindus. Vinayak Chaturthi and Deepawali festivals are celebrated from September-October month.
#27. Chidamabaram Nataraja Temple, Tamil Nadu
Located in Chidambaram village of Tamil Nadu, Chidambaram Natarajar mandir is an artistically enriched shrine dedicated to Lord Shiva shankra. The literal meaning of Chidambaram is the sky of responsiveness and refers to a very deep concept of Hindu beliefs and faith. The temple is also popular as Thillai Nataraja Temple and is considered one of India's Pancha bootha shiva temples.
The temple's presiding deity is Nataraja, Shiva, or Thillai Kothan. The temple has been rebuilt by the dynasties like Pallava, Chola, Pandya, Vijayanagara, and Chera from time to time. It thus gives a brief idea about the architectural evolution that happened during their reigns.
The temple architecture perfectly harmonizes religious belief, philosophy, and art. It comprises four prakarams with five enclosures at its entrance and three enclosures inside it.
The Golden Sabhamandapa is the major attraction of this temple, where many devotees gather during various events like the Margazhi Tiruvadhirai dance festival held in the December-January months every year.
#28. Jambukeswarar Temple, Trichy, Tamil Nadu
If you're looking for an ancient temple that can give you a mystical experience, Jambukeswarar Temple is the place to visit.
Also known as Thiruvanaikaval or Jambukeswaram Temple, it is a Shiva Shrine on Srirangam Island of Tamil Nadu. It is one of the five shiva shankra temples that constitute Pancha Bhuta Sthalam. People worshipped Shiva here with his consort Parvati, known as Akilandeswari.
The main impressive thing of this temple is the Shiva Lingam, which spouts non-stop trickles of water. Temple Built around the 2nd century AD, the temple is a perfect example of Dravidian-style architecture. For people who would love to visit historical places, the temple contains an inscription from the Chola Period.
#29. Koteshwar Mahadev Temple Rudraprayag, Uttarakhand
If you're planning to visit Rudraprayag, you should go to the Koteshwar Mahadev Temple.
Situated at around 3km from Rudraprayag is the Koteshwar Mahadev Temple, a cave temple where Lord Shiva meditated before he reached Kedarnath.
The temple of Shiva is situated on the bank of the river Alaknanda. Several idols of gods in this cave temple are considered to be naturally formed.
These include three naturally formed Shivlingas, an idol of Lord Hanuman, and an idol of Goddess Parvati.
#30. Bhojeshwar Shiva Temple, Madhya Pradesh
Bhojpur Shiva Temple is the oldest temple dedicated to Lord Shankra. The temple is popular for its incomplete construction and is known for the huge Shiva Lingam carved of a single stone.
The Shiva Lingam of this temple is around 5.5m tall and counted among the tallest Shiva Lingas in the country. The reason behind the incomplete construction of this temple is unknown.
#31. Kailashnath Temple, Maharashtra
The Kailashnath Temple at Ellora is one of the finest examples of Rashtrakuta architecture. This temple is a part of 34 temples forming a group called Ellora Caves and was constructed around the 8th century by the Rashtrakuta ruler. It is situated near Aurangabad.
The temple resembles the building style of the temples at Pattadakal. Experts say that most of the South Indian temples built in later years have taken inspiration from the architectural design of this temple.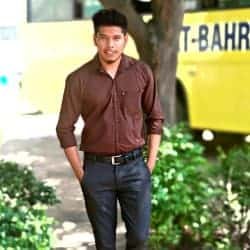 I'm Sachin. I'm a pro blogger, digital marketer been doing and living for SEO for over 3+ years. I'am the founder of Seotechbuddy, vedastrologer, fittuter, and many other online ventures. At Vedastrologer I publish content related to the mantra, Hindu gods, and temples.