Hanuman Beej mantra is a very powerful mantra that is chanted to please Lord Hanuman. In Hindu mythology, it is said that Hanuman Beej Mantra is the best mantra to please him if done with full devotion. The word "Beej" in the Hanuman Beej Mantra refers to a seed that is the origin of a new life beside It's small in size.
Likewise, Hanuman Beej Mantra is also very short but when chanted with full devotion, faith, and love it works like a miracle. It brings positive energy, blessings, and removes the hurdles from the devotee's life. Hanuman Beej Mantra is a two-line simple mantra that has a robust impact on the person who is chanting it and creates a positive aura around him.
Hanuman Beej Mantra, when recited with purity, dedication, and sincerity will act as a shield for the difficulties and dangers in one's life and will help to fulfill the authentic desires of the devotee.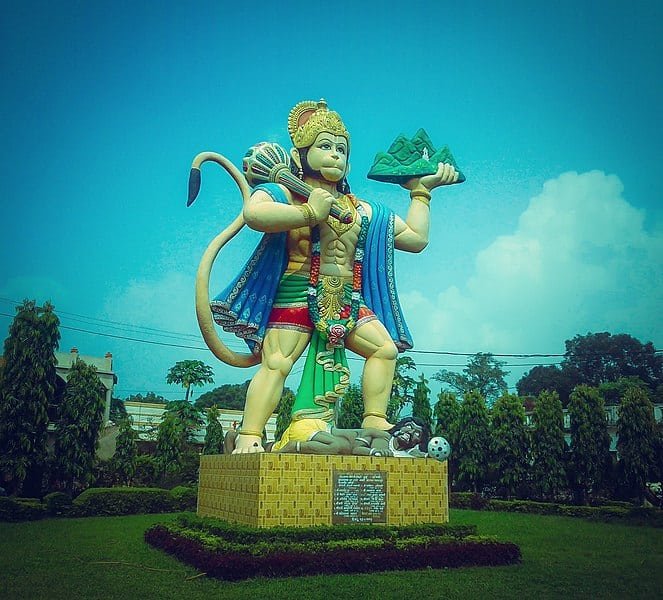 Who is Lord Hanuman?
Lord Hanuman is one the most powerful and valiant gods who portray pure devotion and an absence of ego. He is the incarnation of Lord Shiva and was born by the grace of Lord Vayu (the Wind God). He was born to his mother Anjana and his father Kesri. The mace (Gada) is his main weapon offered to him by lord Kuber. He is an ardent devotee of Lord Rama and that's why it is said that Lord Rama and Maa Sita resides in his heart. 
He is one of the pivotal characters of the Hindu epic Ramayana where he showcases himself not only powerful and masculine but also one with a sharp mind. He knows all Vedas and scriptures and he has his presence in another Hindu epic – Mahabharata.
He belongs to a monkey family, so he loves to eat food and fruits; one of his famous stories of attempting to eat Sun by assuming it is big, delicious fruit is incredible. There are numerous instances that prove his fearlessness and courageousness. It is said that he has been blessed with the boon of being immortal till the end of kali yuga that is why he is called Chiranjeevi.
It is suggested offering your prayers to Lord Hanuman if you face any trouble or you are scared of anything. One of his famous prayers is Hanuman Chalisa while there are some other powerful mantras also, one of them is Hanuman Beej Mantra.
Other than lord Hanuman, he is called by several other names such as Anjani suta (Son of Goddess Anjana), Vayu Putra (son of lord wind), Mahabal (unlimited power and potential), Raamesht (beloved of Lord Rama), Kapeeshwara (lord of monkeys), Panchavaktra (five-faced), Maruti (son of wind God), and many more. He showcases an ideal combination of both strength and gallant deeds.
What is the meaning of the Hanuman Beej Mantra?
Before hopping on to Hanuman Beej Mantra meaning, let's know the lyrics of Hanuman Beej Mantra:
Hanuman Beej Mantra Hindi:
"|| ॐ ऐं भ्रीम हनुमते,
श्री राम दूताय नम: ||"
Hanuman Beej Mantra in English:
"Aum Aeem Bhreem Hanumate
Shree Ram Dootaaya Namaha"
Meaning:
It has a very simple meaning which states that Ohh! Lord Hanuman, we pray to you, to the biggest devote and messenger of Lord Rama.
Beej Mantra creates positive energy around you, provides you with immense power to overcome any hurdle in your life. Hanuman Beej Mantra is also known as panchmukhi Hanuman Beej Mantra, according to Hindu mythology, Hanuman Beej Mantra is the most effective mantra to get the blessing of Lord Hanuman.
What are the benefits of the Hanuman Beej Mantra?
Now we know what Beej Mantra is so let us look at Beej Mantra benefits.
By chanting of Hanuman Beej Mantra, all the evil forces that surround the devotee are eliminated. It starts creating new optimism in the environment and in the person itself, it provides enormous strength to deal with the hiccups of life.
Now a day's mental peace is missing in our lifestyle which is very important to deal with every situation with tranquility. Chanting this Beej mantra with full focus and devotion without any negative thoughts in mind will give positive results and will pacify your mind.
As Hanuman is the biggest devotee of Lord Rama so by pleasing Hanuman you can also please Lord Rama. This way you will get the blessing of Lord Rama too, so it is beneficial to chant this mantra regularly to get affirmative results.
How to chant Hanuman Beej Mantra?
As this mantra is only of two lines so it is very effortless to recite this mantra but if it is done with a certain procedure it will give you miraculous results.
You can chant this mantra anytime in the morning or evening.
Before chanting the mantra, you need to clean yourself.
Sit before the idol or photo of Lord Hanuman if possible, otherwise, you can chant it by sitting on a cloth placed on the floor.
You can do this by going to a temple if you want to.
During the chanting of the mantra try to concentrate on Lord Hanuman with full love and respect.
You can do chanting of Hanuman Beej Mantra 108 times.
For this, you can use basil leave garland, any flower garland, or rudraksha's garland to track the number of chanting. If any of the above is not available, then you can use your fingers to count.
In the end, show gratitude to lord Hanuman for every good thing in your life and for showering his blessings on you and for protecting you.
Now by knowing how powerful Hanuman Beej Mantra is; what the benefits of the Hanuman Beej mantra are, it is highly advisable to chant this Hanuman Beej Mantra consistently to get the blessing of the Lord Hanuman and to get rid of difficulties from your life and live a happy and peaceful life.