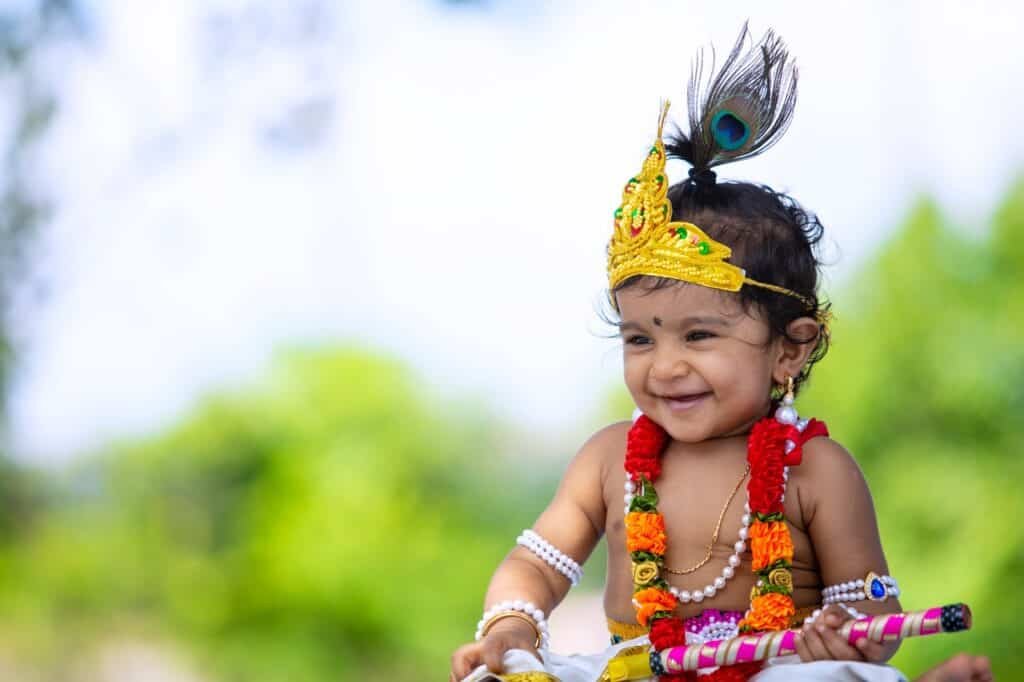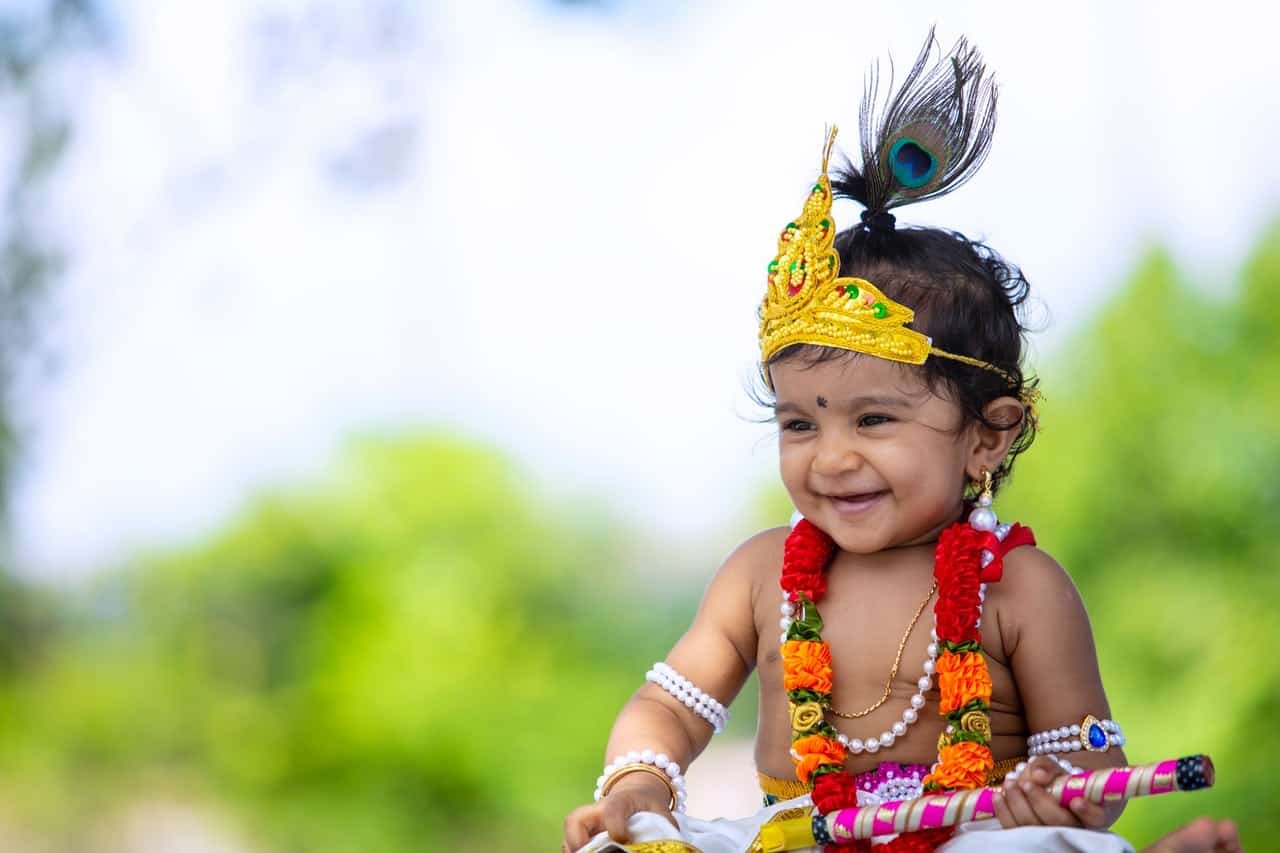 If you chant the holy name of Lord Krishna daily, you will gradually start feeling its magical power all around. This holy name of Lord Krishna will destroy all your sins for a lifetime. Along with that, chanting Lord Krishna mantras is another way to remove all your innumerable sins.
Krishna is the name of the supreme God. He is the source of pleasure and peace. Each living being is seeking peace and happiness, but we do not know how to seek real satisfaction.
We live with a materialistic concept of life; people are frustrated at every point while satisfying their happiness because they are repeatedly told to enjoy through the bodily senses.
To enjoy real satisfaction, we need to understand that following Lord Krishna's teachings is the only way to achieve that. And chanting Lord Krishna mantras is the most effective path to get all pleasures of life.
Remarkable things about Lord Krishna mantras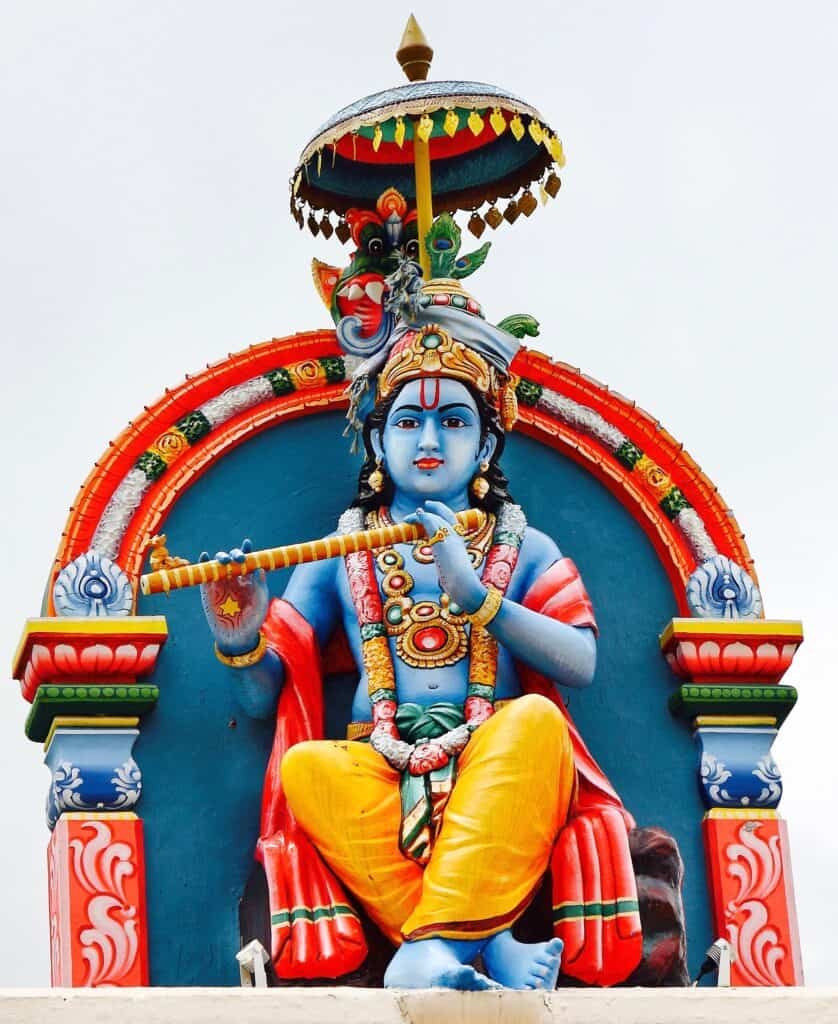 The Lord Krishna mantras are the only means to secure God's blessings. Every Lord Krishna mantra has a different meaning and spirituality. There are many Lord Krishna mantras you will come across, but the most powerful mantra is:
"Om KrishnayaNamah"
It means that you are asking God to accept all your greetings and worship. If you chant this, then you can get the ultimate happiness.
You can also chant the "Hare Krishna mantra," which is one of the powerful mantras of Krishna. It creates a spiritual sound vibration that is like the nourishment for the inner-self. This mantra allows its devotees to associate with Krishna directly because Lord Krishna is not different or separate from his own name; he is omnipresent. Along with that, this mantra also contains the spiritual powers of Lord Krishna, which are quite vibrant and meaningful.
All religious people chant these powerful mantras of Lord Krishna. The "Krishna Gayatri Mantra" is another powerful mantra to chant. When you are suffering from any adverse situation and want to get the blessings of the almighty, Lord Krishna will bless you with wisdom and immense knowledge power.
This mantra praises Lord Vishnu, namely as Lord Krishna and Lord Ram. If anyone chants this mantra daily, then God will deliver the ultimate humanity and compassion. You can also read Lord Krishna mantras in Hindi so that you can easily understand its descriptions and spirituality.
List of Krishna Mantras
The important Sri Krishna mantras
There are multiple numbers of Krishna mantras available which are carrying different values and meanings.
Krishna mantra for success
It is quite a famous mantra, "Om Sri Krishna SharanamNamah." This is one of the Sri Krishna mantras which help you when you want to surrender under the shelter of Lord Krishna. Do you know the specialty of this mantra? It is known as Krishna mantras for success.
Lord Krishna Bhakti mantra
This mantra contains the names of the greatest devotees of Lord Krishna. You can ask them for their blessings with the help of this mantra.
Devotees across the world widely use this Hare Krishna maha-mantra. Also, it is known as the 16-word Vaishnava mantra. It means you are praying to Lord Krishna to take you to another spiritual world where you can know the real pleasure of divine power and understand the true meaning of spirituality.
This specific mantra has some rules which a devotee needs to follow while chanting. With the help of this specific mantra, you can get God's grace, and all your problems will disappear.
Lord Krishna mantra for Love and Marriage
Also, there are Lord Krishna mantras available that can help to understand the power of love. This Krishna mantra for love helps you remove all types of problems in your life, whether related to love or marriage. You can also chant the Krishna mantra for marriage through which God will bless you with a peaceful and prosperous married life with your partner.
This specific mantra is chanted when you wish Lord Krishna to remove all your pain and miseries, thereby giving you peace in your life and mind. It also means that you are praying to the almighty to bless you with immense wisdom and intellectual power.
This whole mantra is about praising Lord Vasudeva. Devotees praise Lord Krishna for being the Lord of this Universe. Also, expressing the ultimate gratitude and salute to Lord Vasudeva.
The entire meaning of this mantra is that Lord Krishna decorate himself with beautiful fragranced flowers. He wears attractive flower garlands and anklets. His entire body covers with dazzling pieces of jewellery. Through this mantra, devotees express their salutes to Lord Vasudeva.
In this mantra, the full description is about Lord Krishna's attractive appearance. Lord Krishna's beautiful curly hair and the gorgeous face that looks like a full moon are described in this mantra.
This mantra depicts Lord Krishna's fragranced scent of Mandara flowers. He puts a peacock feather on his hair. His body is covered with decorative pieces and jewellery, and his face is looking absolutely eye-catching. Here, devotees are also giving their salutations to Lord Vasudeva.
Benefits of Lord Krishna mantras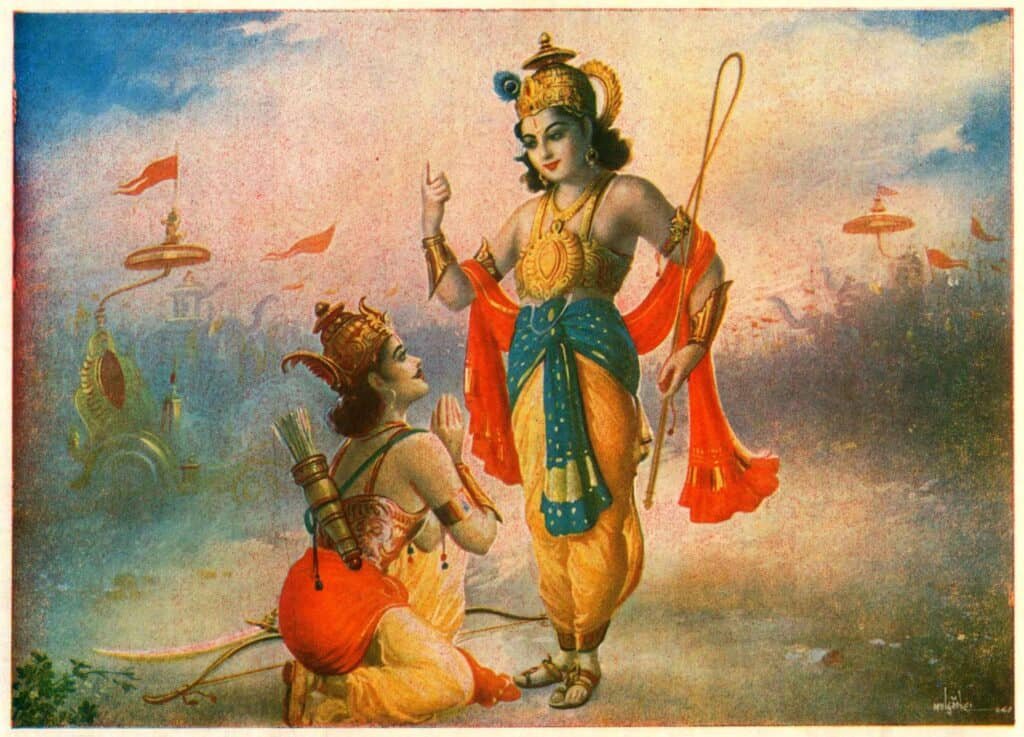 Benefits a devotee can get by chanting Krishna mantras
In the beginning stages of chanting, the practitioner will definitely experience peace of mind. And get relief from various unwanted drives and difficulties.
As one will get more realization by chanting these Lord Krishna mantras, he/she will start perceiving the actual, spiritual existence of the self, and devotees can clearly understand their relationship with the almighty Lord.
When you make a practice or habit of chanting this most powerful Krishna mantra, you gradually start noticing changes within yourself. There are various impressive benefits that one can get by chanting these mantras; let's casts some lights on them:
It enhances your confidence level for all types of works.
It removes all unwanted fears and confusion within you.
It improves your wisdom and knowledge.
It helps to cure long-term diseases.
It blesses you with career growth.
It helps to achieve all milestones of your life.
It helps to get unflinching pleasure and happiness by serving Lord Krishna.
It provides you with courage and strength to solve all problems in life with a positive attitude.
Removes all your sins and guides you to do good works throughout life.
If you start practicing to chant Lord Krishna's mantra, you will start realizing the actual meaning of your life. It will help you to achieve divine grace and blessings. Along with that, it helps you to tackle all obstacles of life by facing them with courage.
You can chant the Krishna mantra for wish fulfilment, which will remove fears from your heart or mind. It gives you blessings, thereby fulfilling your wishes. This practice can change your life for various good reasons.
Guidelines of Krishna mantra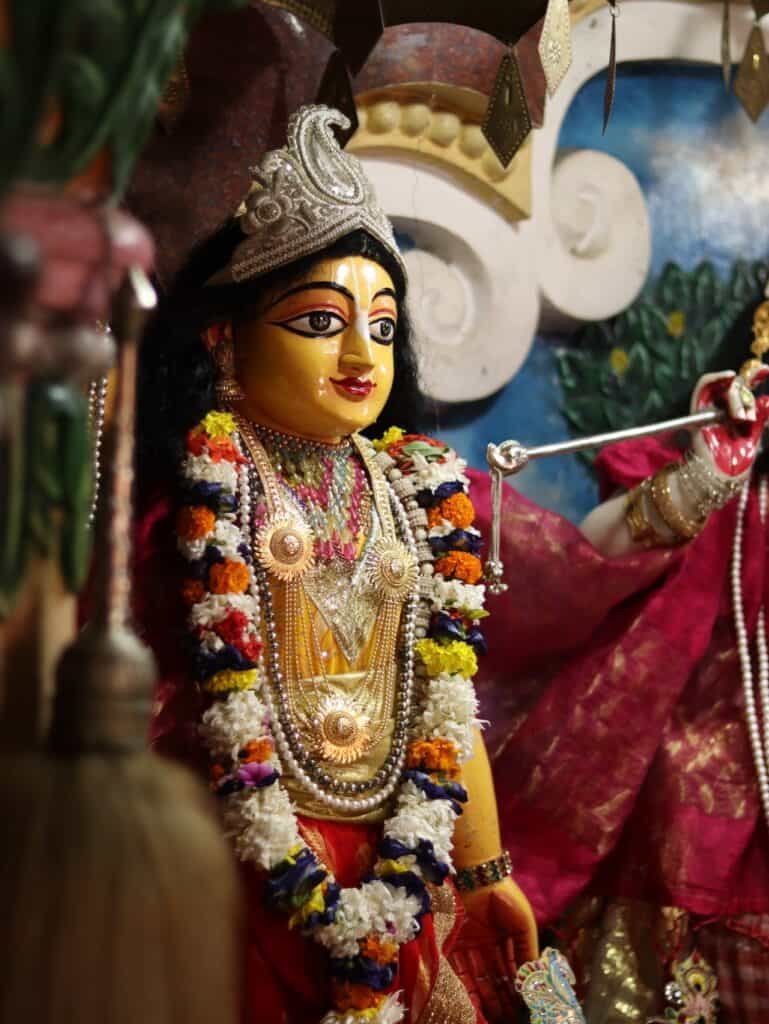 Guidelines which can help in chanting Lord Krishna mantras in Hindi
There are some guidelines present for chanting Krishna mantras, and from them, some of the essential guidelines are:
This guideline is all about not offending the great devotees who have all the time tried their best to spread the glories and actual story of the holy name around the world. Krishna's holy name is not different or separate from Krishna, and one who always tries his/her best to spread these holy names across the world is immensely loved by Him.
Even Lord Krishna Himself never tolerates the offences or blasphemy against any of his beloved devotees. Some devotees also chant the Krishna mantra in Sanskrit to promote the value of the divine language.
Another offence is when anyone denies that Lord Vishnu is the ultimate Truth. Moreover, there is no difference between His name, form, pastimes, quality, and activities, and one who notices the differences is considered an offender.
The almighty Lord is Supreme, and no other can be equal to or greater than Him. Consequently, if anyone will think that the Lord's names are not different from the names of demigods, he/she will be offended. It is because the Supreme Lord and the demigods should not be treated on an equal level.
There are various other guidelines present apart from these guidelines. All these guidelines are strictly followed worldwide by every devotee because Lord Krishna always loves devotees from the core of His heart.
There are also several Radha Krishna mantras present which can spread the spirituality of love. Even Lord Krishna always loves to listen to his name if it is chanted with Radha's name.
An overall summary
Lord Krishna is the ultimate power of this Universe who always loves His devotees. And chanting Lord Krishna mantras are the best way to get His blessings. This article shows that every mantra contains different values and meaning, but at last, all are quite essential.
All Krishna mantras are exceptionally well-structured and straightforward, which require the regular practice of chanting. In this article, a reader can get all the necessary information about the Lord Krishna mantra. If any readers have any great ideas to share, they can freely participate, and also the audience is always welcome to share their feedback on this article.
Also read these topics:
15 Powerful Ganesha Mantra For Removing Obstacles
10 Powerful Mantra For Kali Maa For Pleasing The Dark Goddess